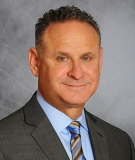 Steven J. Kleinberg
Licensed Funeral Director
Steven J. Kleinberg is a Jewish funeral director with a passion and history of service to others regardless of religion, ethnic or cultural background. Translated from its original Jewish-Germanic origin the Kleinberg name means 'small mountain'—and moving small mountains is his approach to serving every family who entrusts us with the care of their loved one.

Steve has earned the reputation of being a caring and compassionate funeral director by the many hundreds of families served over the years as well as clergy and colleagues across the country. His calming demeanor, life experiences and diverse background makes him uniquely qualified to serve you.
Knowledge & Experience: Steve began his career in funeral service 40 years ago in his native Miami, Florida. Various opportunities led him to Chicago and Boston prior to landing in New York City in 1999. He maintains funeral directors' licenses in New York, New Jersey and Florida and has held licenses in Illinois, Wisconsin, and Massachusetts.
Veteran: Steve is proud to have served in the United States Air Force and earned an Honorable Discharge. He was assigned to bases in Texas, California, and Spain.
Civil Servant: Steve is a retired Rescue Paramedic from the Fire Department City of New York (FDNY) where he was assigned to FDNY EMS Station 39 in East New York, Brooklyn. Steve is credited with saving countless lives.
Federal Disaster Team Member: Steve serves as Mortuary Officer for the federal government's mass fatality Disaster Mortuary Operational Response Team (DMORT) where he responded to the World Trade Center 9/11 and Hurricane Katrina incidents.
Family: Steve understands the complexities of family dynamics. As a husband, father, stepfather, grandfather, brother, and son, he is well equipped to help guide you and your family through this difficult time.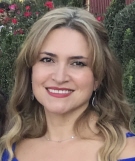 Yasmin Kleinberg
Funeral Assistant & Spanish Translator
Yasmin Kleinberg is a trained attorney in her native Bogota, Colombia and works with special needs students at the Long Beach Public School District. Yasmin serves Kleinberg Funeral Services as a funeral assistant and translator for Spanish-speaking families. More importantly, she is Steve's rock and right-hand person.